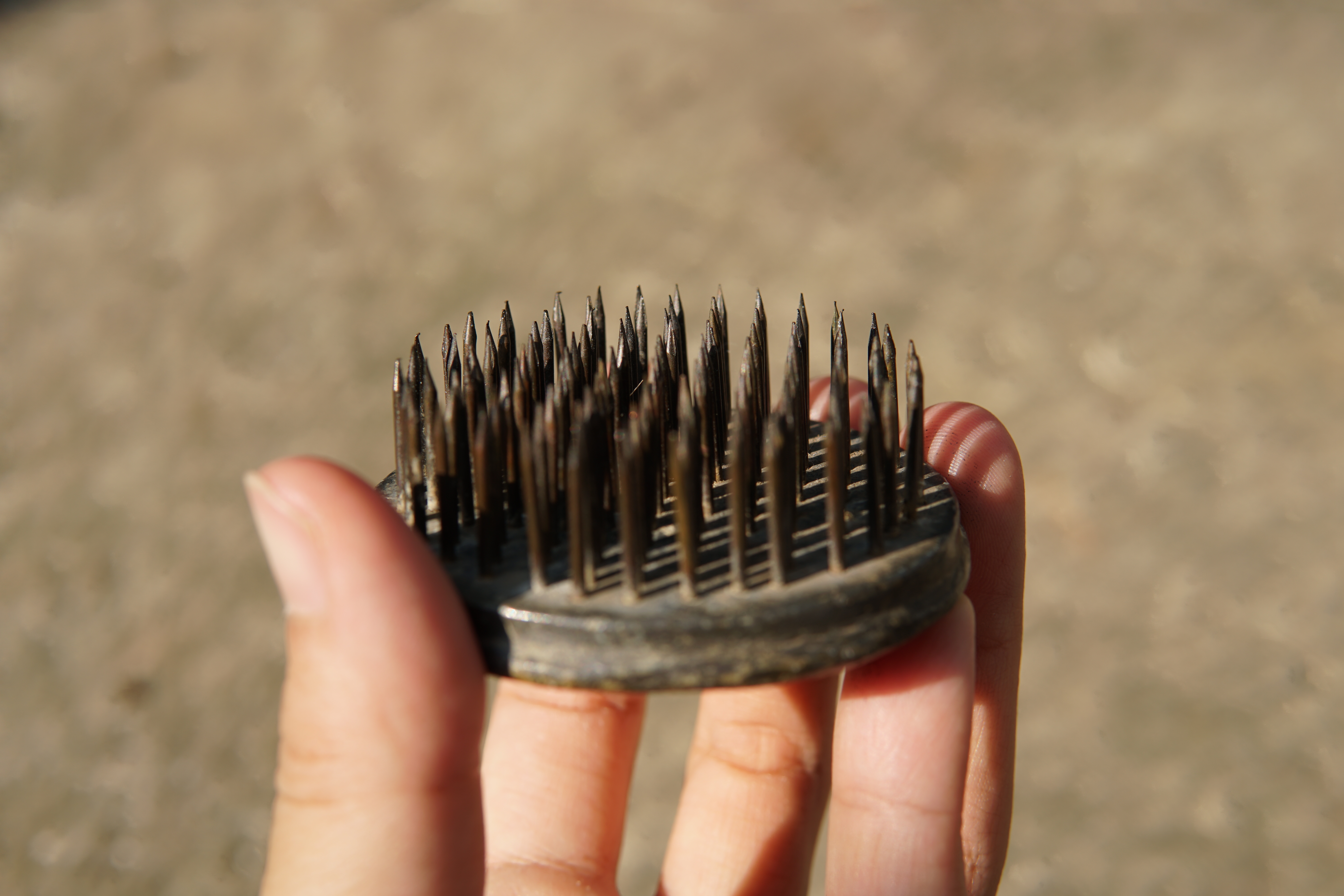 劍山 | Flower Frog
2019

大館「張三李四收藏展」參展作品
Work Exhibited at Tai Kwun 'Collections of Tom, Debbie and Harry'


以石膏倒模作為方法,把八十個花盆連結一起,透過重塑「劍山」,回應一位民間收藏者的故事:數十年前,她的爸爸以廚房作為小工場(家庭工場是昔日香港的的基層市民的生存方式),製作插花用的器具:「劍山」。爸爸把煮熱了的鉛,倒入鐵模具裡,女兒與父親在每一個模具的圓窿放滿銅釘。爸爸離世,女兒沒有忘記父親的手藝,「劍山」成為她珍貴的收藏品。同時,她把製作劍山的記憶,轉成編織扣針花的方法。藝術家以雕塑手法連結小花盆,模仿那個製作「劍山」的鐵模具,比喻「劍山」以不同的形式延續不斷。

「張三李四收藏展」由本地策展人張煒森及胡敏儀策展,透過藝術家的想像思考收藏的意義。鉛花盆由廖榮想師傅以沙模製作;作品回應區佩蓮女仕的收藏及她父親的故事 。

A hundred little planting pots were gathered to form a circle to connect a story of making "flower flog": Using the kitchen as a small factory, the father produced the metal base used in floral arrangements—"flower frogs". The parents boiled lead, pouring the molten liquid into the steel mould. The daughter placed copper nails into holes in the mould.

The exhibition "Collections of Tom, Debbie and Harry" was curated by Eddie Cheung and Wendy Wo. About 90 pots were produced by courtesy master Liu Wing Sheung by molding, to response to Ms. Au Pui Lin's collection and her father's story.
藝術家 | 鍾惠恩、吳家俊
Artist | Chung Wai-ian, Ng Ka-chun